8 Ways to Use Reclaimed Wood in Your Las Vegas Home
Las Vegas people adore reclaimed wood and the décor statement it makes. It's making definite inroads as a new way of upcycling weathered wood and, at the same time unleashing your personal style. Reclaimed wood products are genuine eye-catchers whether it's part of a wall, your cabinets, or – yes! – your windows. Stumped about where reclaimed wood would look most appealing in your home? We've selected 8 sensational ideas for you – each and every one applied to wonderful effect in Las Vegas homes.
1.Use Reclaimed Wood on Your Windows
Now here's a first you'll go for: reclaimed wood is at long last available to you as a window treatment. Sunburst Shutters now offers a plantation shutter formed from the finest reclaimed wood. Actually, Sunburst is the only company offering you reclaimed wood shutters in the Las Vegas area. We got our hands on the reclaimed wood you want and used it to give you a louvered shutter that's not only beautiful but functional.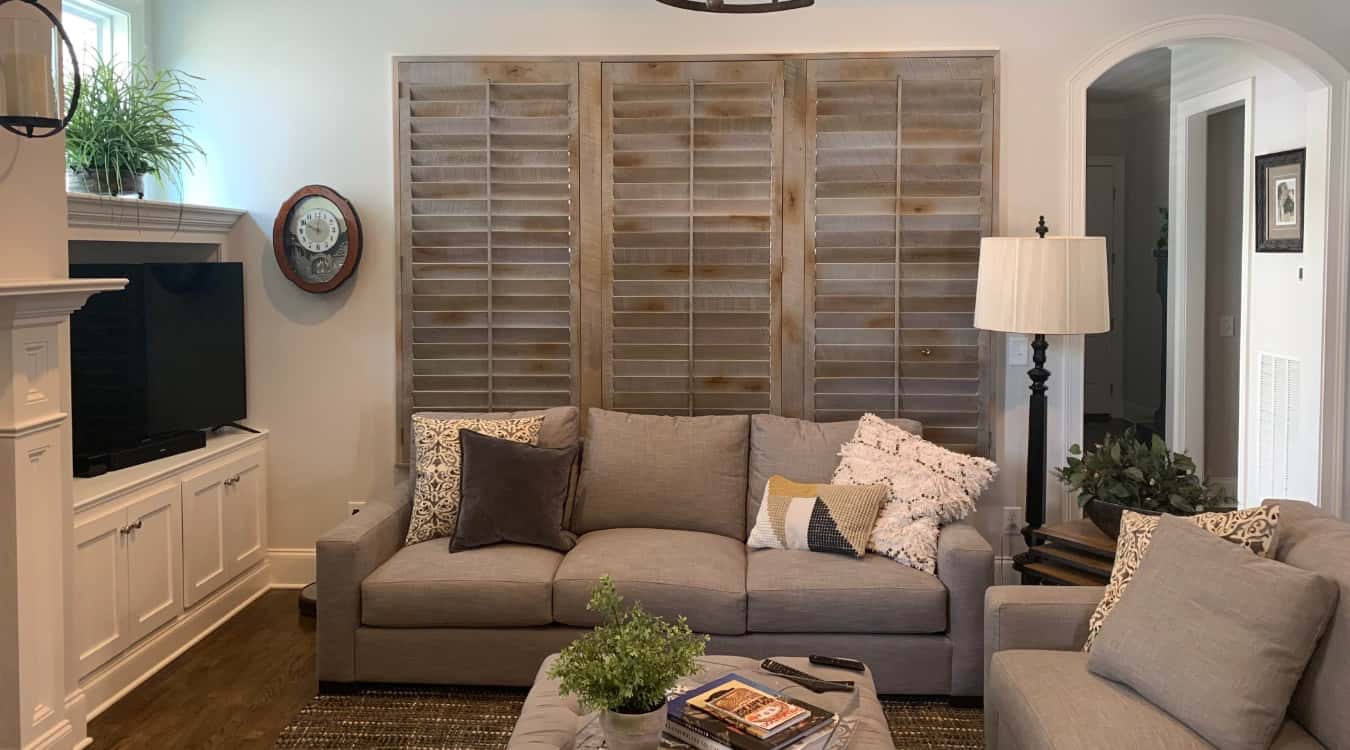 Reclaimed wood can become the makings for a window treatment that's wholly original. It makes a difference, certainly, that your reclaimed wood shutters are themselves masterpieces. And Sunburst makes sure they are. You'll find joy in their smooth, simple operation as well as their look. Tilt the louvers open to brighten up the room's interior. And tilt them closed to better reveal the weathered look of reclaimed wood on your window. If we've heightened your interest, you'll want to look further into reclaimed wood for windows in Las Vegas
2. Walls of Reclaimed Wood
Bring the outside in with a reclaimed wood wall. Reclaimed wood paneling invigorates a wall without overpowering it and adds a casually convivial ambiance to the room. Whether you have a fireplace, artwork, TV, or bookcase you want to show off, a reclaimed wood wall will look incredible behind it and provide just the effect you've sought.
3. Reclaimed Wood and Floors
Been thinking about redoing a floor in your house? Wood flooring of any kind can add warmth and coziness to a room, but flooring of reclaimed wood has an unparalleled beauty borne of the time – generally decades – the wood has remained outdoors. Regardless of whether you like the great outdoors or just like the look and feel of weathered wood, you'll go into your happy dance for sure when you see what a reclaimed wood floor can do to reinvigorate your home.
4. Dress Up Your Cabinets with Reclaimed Wood
What better opportunity could you find to enhance the look of your kitchen cabinets now that top-quality reclaimed wood is so popular and easily accessible? It's the natural way to improve the warmth and congeniality of your kitchen. Each panel of reclaimed wood evokes a fascinating story – of many years [[spent in an old building, maybe, or as part of a barn or fence. And a trace of that story will survive in your reclaimed wood cabinets, crossing your mind at such times when you lay eyes on them.
5. Reclaimed Wood Makes a Great Table
Tabletops made or consisting of reclaimed wood can lend a contemporary, emphatically novel ambiance to your dining room or home office. Meld the reclaimed wood's natural tones and textures with your décor for a cohesive look that satisfies you – while it blows your guests away!
6. Reclaimed Wood and Bookcases
However else we may view them, books make wonderful decorative pieces. Leather, vinyl, buckram, or paperbound books and those with colorful dust jackets look especially pleasing on a coffee or end table, on a bookshelf, or in a large bookcase. Their pleasing variety is both accentuated and harmonized in bookcases of genuine wood, too. And bookcases of reclaimed wood, because of their natural colors, knots, holes, scratches, and other telling features, create an especially unusual, one-of-a-kind furnishing.
7. Pics "Pop" in Frames of Reclaimed Wood
The understated, natural look of reclaimed wood is just right for picture frames. It actually can enhance your favorite artwork and important photos in a most distinctive manner. What's just as noteworthy that frames of reclaimed wood can be designed in a plethora of styles, so they'll harmonize with practically any décor.
8. Reclaimed Wood for a Headboard
Few things can refresh the ambiance of a bedroom like a ingeniously designed and constructed headboard. It's really a matter of preference these days as to whether people have their headboard directly affixed to the bed or attached to the wall behind the bed. Either way, a headboard made of reclaimed wood planking can be especially stunning. It's natural coloring and effects of weathering lend themselves to a multiplicity of styles, from antique to modern. With reclaimed wood, you'll discover there aren't any limits on your imagination to get in the way of you creating the headboard that dreams are made of!
Reclaim Your Creativity with Reclaimed Wood
We hope we've inspired you with these 8 ideas for getting the most out of reclaimed wood. That said, we have even more ideas for you – ideas that so eloquently accentuate the beauty of the reclaimed wood shutters we alone provide in Las Vegas. Our team will gladly show you samples of our shutters, answer your questions, and provide you with additional design ideas. Call us at 702-850-6619 to set up your free in-home design consultation today!