What Window Treatments To Choose For Your Las Vegas Custom-built Home
If you have decided to build a custom home in Las Vegas, you seek the best finishes possible, and that includes the window treatments. There's a reason plantation shutters are a leading choice in window treatments for custom homes in Las Vegas. Their functionality and appeal complement any interior and provide you unparalleled control of natural light. With these qualities you have the ability to produce a welcoming environment and highlight your new home's best features.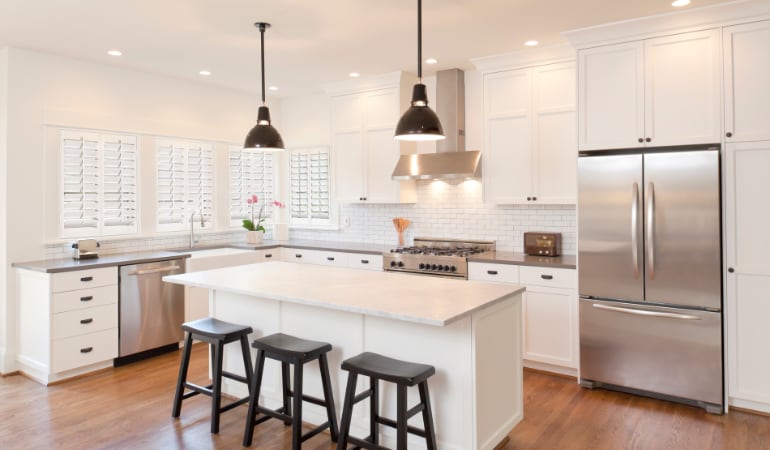 How Do Plantation Shutters Elevate a Custom Home?
If your goal is to increase the allure of your custom home, think about window treatments that residents in Las Vegas install to add to their home's style. Plantation shutters synchronize seamlessly with homes of various styles. They are a point of emphasis and garner attention from anyone who may be more familiar with outdated drapes and metal blinds. Their functional yet distinguished aesthetic requires no extra dressing to look stunning and leave a lasting impression on guests.
Plantation shutters are a great window treatment choice for a custom-built home. The sharp design and classic colors complement any style of home, so you can confidently ask your builder to install them in each window without worrying about how they will blend with your home furnishings.
Plantation shutters can also be designed to fit specialty windows and more standard sizes, so you can use them for windows of any type and save yourself the hassle of implementing numerous window treatment options. You will appreciate having a job removed from your list during the busy home design phase!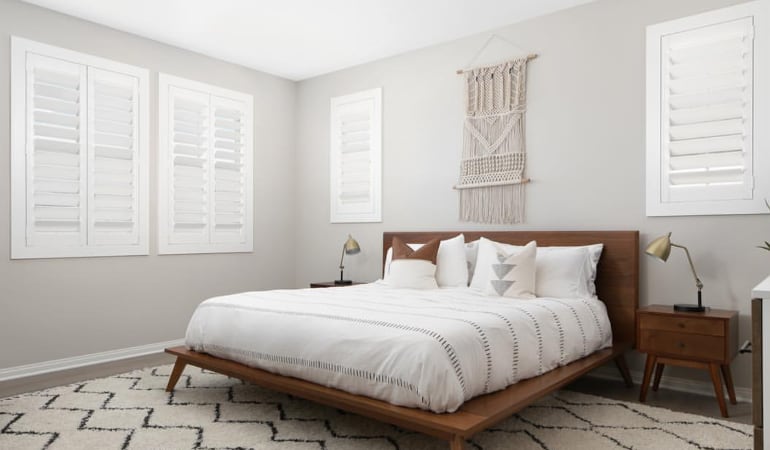 How Do Plantation Shutters Allow You To Filter Natural Light?
Everyone loves the look of a home filled with sunshine. While you'll no doubt choose beautiful light fixtures to illuminate your custom home, sunlight has special characteristics that can make a room look larger or change its overall feel.
However, the sun's light is constantly changing. Over the course of a day, the quantity of light coming through your windows changes, and you have to alter your window coverings to filter the light accordingly. When searching for window treatments for custom homes in Las Vegas, homeowners prefer faux wood Polywood® and classic wood plantation shutters that let them manage the levels of sunlight a room gets.
Gently move the tilt rod to change the angle of the louvers in the daytime when the sun is in full force to provide a space a softer glow and increase the opening to enhance the brightness when the sun has shifted to a new location. You are even able to swing back the shutters at the hinges for a wealth of natural light to produce an impression of being outdoors and close them again for a cozier feeling.
Altering the slat angles also allows you to shift the sun's rays. When you tilt the louvers up or down, you can cast light all areas to make your home appear larger. You are able to shift glaring light away from your guests' sightline and surfaces where reflection occurs without lowering the louvers and completely losing the light. With a single touch, you can control the location and the amount of daylight that radiates in each space to ensure the comfort of your guests.
Find The Best Window Treatments For Your Las Vegas Custom Home
Showcase your home in its full glory with the eye-catching style of plantation shutters by Sunburst Shutters. We are your source for elegant window treatments that Las Vegas property owners need for their custom-built homes. Give us a call at 702-850-6619 or fill out the form below to request a free in-home design consultation.